This editorial is written to provide information on Flooring Options to the Dairy Producer on what is now being recognized by researchers as one of the leading causes of lameness in Dairy cattle.
The information was presented to those in attendance at the Western Canada Dairy Seminars in Red Deer Alberta in March 2009 by Dr. Jeff Rushen of Agri- Food Research Center and the University of British Columbia at Agassiz B.C.. His presentation was titled Flooring Options to Minimize Lameness and Optimize Welfare.
The presentation indicates that research shows concrete flooring has a major impact on the health and welfare of the cows. Poor flooring is probably one of the major weaknesses with the modern free-stall barns. Flooring will affect their health and welfare in 2 ways; either impairing mobility, resulting in an increased risk of slipping and falling, or by increasing the risk of hoof disorders and lameness.
This is some of the data that was presented at the seminar based on different studies that have taken place over the past 13 years.
You as a producer can then decide what to do, based on current information.
Would you prefer to have your cattle live on grooved flooring, textured floors, smooth floors, slats or rubber?
Don't answer the question based on your current preference or sales pitches. Look at the data and make your own decisions based on fact.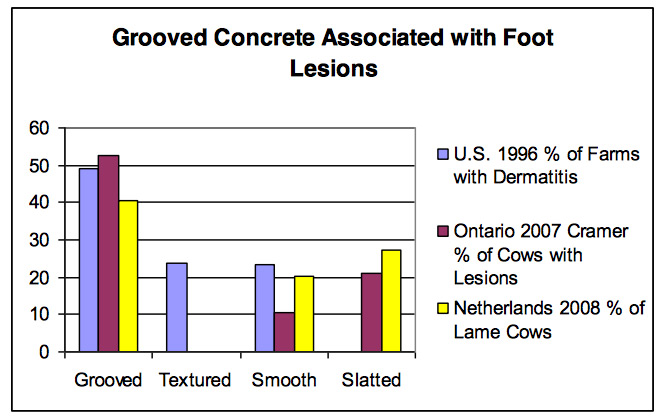 "Barns with grooved concrete floor or poorly maintained concrete floor have a higher incidence of hoof problems and lameness."
From the information provided one would conclude that a smooth or textured floor is better for cattle then grooved flooring when it comes to reducing the occurrence of lameness and foot lesions.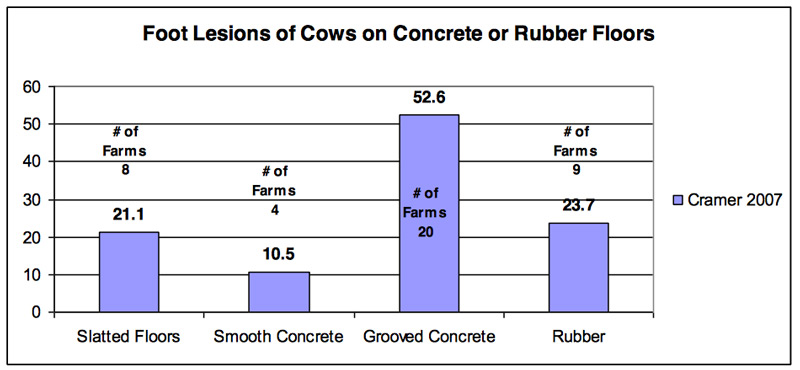 "Covering Alley floors with rubber does not guarantee a reduction in lameness"
Rubber acts as a false indicator of hoof health. The cushioning effect of rubber may aid in reducing pain and discomfort that the cow may be experiencing but does not allow for an accurate assessment of hoof health. A lame cow appears to be fine while standing on rubber. Rubber is a good floor covering to provide temporary relief from the concrete but is complete floor covering the right way to go?
If you are building, renovating or repairing your barn look at all these factors when deciding what kind of finish apply to the floor. Make sure you are making an educated decision on your investment based on the cow's point of view and what she needs to stay healthy and happy.
Remember the 1/8th of an inch of concrete directly under your cows hoof can make or break the health of the herd and the profitability of the operation.
This information is taken from the power point presentation and the written proceedings from the 2009 Western Canada Dairy Seminars held in Red Deer Alberta. March 2009.
Copies of the proceedings which contain Dr. Rushen' presentation can be purchased from the University of Alberta here